Audio Books, Podcasts, and Video You Can Learn From
LOL has many business audio books you can learn from. There are previews you can listen to in order to help find the right audio book for you. Also visit the 'free stuff' section for more titles and topics to keep your mind focused and stimulated for success.
My Listening Reads
Insight to how to connect with people online
without breaking the rules of mixing social
relating and business sharing tactics.
LOL for Business Sakes – Books  you can listen and learn from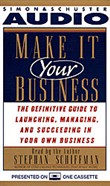 Make It Your Business
by Stephan Schiffman
Schiffman reveals his innovative business-building strategies in Make It Your Business – a complete and concise guide written specifically for the entrepreneur.

Find Your Entrepreneurial Spirit
Strategy 1 from Winning At Entrepreneurship
by Raj Gavurla
Having an entrepreneurial spirit is a mainstay in business success. It allows you to turn your work into practical success.

Marketing On A Budget
How To Squeeze The Juice Out Of You Marketing
Andrew Colins
An interview with Ty Cohen (conducted by Terry T.) Ty Cohen is one of the music industry's most recognizable voices,

  The Introverted Leader:
Building on Your Quiet Strength
by Jennifer Kahnweiler
" Today's go-go business world favors extroverts. Don't believe it? Just ask   an     introvert, says workplace expert Jennifer Kahnweiler, author of The Introverted Leader: Building on Your Quiet Strength."

Getting Things Done
The Art of Stress-Free Productivity
by David Allen
"The Getting Things Done (GTD) methodology is pretty revolutionary. For any of us who are stressed about the number of projects that we have or the number of "open loops" that exist in our life"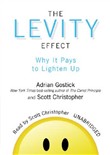 The Levity Effect:
Why It Pays to Lighten Up
by Adrian Gostick
"The benefits of the levity effect are not conjecture but are built on extensive research and case studies from some of the world's most successful organizations"

The Marketing Attitude
Insights That Help You Build a Worthy Business
by Marcia Yudkin
If marketing is the art of creating a customer, smart marketing creates customers who want to stick around and who match the values and approach of the business owner

Resonant Leadership:
Inspiring Others Through Emotional Intelligence
by Richard Boyatzisbr>Richard's ability to explain the power of emotionally intelligent leadership is world-class. He moves people." – Daniel Goleman

Time Empowerment
by Brian Tracy
Time waits for no man! Learn how to empower your life by developing a keen sense of worth to your time.

The Go-Getter
A Story That Tells You How to be One
by Peter B. Kyne
Originally published by William Randolph Hearst in 1921, Peter Kyne's The Go Getter has become a continual source of inspiration for salesman, entrepreneurs and employers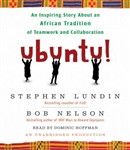 Ubuntu!:
An Inspiring Story About an African Tradition of Teamwork and Collaboration
by Bob Nelson
"A powerful story about the African philosophy of teamwork and collaboration that has the power to reshape our workplaces, our relationships with our coworkers, and our personal lives"

A Sense of Urgency Creates Great Work
by Bob Proctor
"How can a sense of urgency propel you and your organization to peak performance? Learn why people behave the way they do and understand how a sense of urgency can lead a team to accomplishments you never thought possible."

Leadership from the Inside Out
Becoming a Leader for Life
by Kevin Cashman
"focusing on mastery of life, rather than on mere mastery of circumstances or of managing people–to help them advance from a one-dimensional focus on external factors to a multidimensional perspective."

Conscious Business
by Fred Kofman
"More and more business leaders are catching on to an often overlooked fact: consciousness is our basic faculty for survival and success. Without it, we forget what's important to us and lose sight of the steps we might take to reach those goals."

The Willie Factor
How to Be Extraordinary in Sales and Service
by Joel Weldon
When a typical taxi ride from the airport to a hotel turns out to be everything but ordinary, Joel Weldon discovers an amazing man who redefines what it means to sell and serve."

10 Quick Steps to Chris Pirillo's Blog Traffic School
by David Lawrence
Chris Pirillo shows you, in 10 quick steps, the fastest, easiest way to build traffic to your blog, involve your community, post efficiently, get known for your blog's quirks, how to handle complaints and more.

Creating the Loyalty Mindset
Moments of Magic
by Shep Hyken
"This engaging audio will help you clearly understand the differences between customer service and loyalty"

Emptying Your Inbox:
The 12 Best Practices for Handling Email
by Laura Stack
Learning to control your email is fundamental to increasing your productivity. These skills will give you the foundation you need to keep your inbox under control.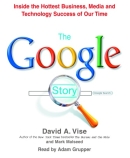 The Google Story
by David Vise
THE GOOGLE STORY is the definitive account of the populist media company powered by the world's most advanced technology that in a few short years has revolutionized access to information about everything for everybody everywhere.